BAY-LAKES SCOUTING SPOTLIGHT

Introducing Girls Introduction to Basic Outdoor Skills weekend, April 30 - May 2, at Gardner Dam Scout Camp! This fun weekend was created to provide girls throughout Wisconsin and Upper Michigan a unique opportunity to learn from other girls and level up their Scout skills.

This event is open to any female Scouts BSA or Venturing members, or any female troop/den leaders that want to learn or brush up on their Basic Outdoor Skills. Female Arrow of Light Scouts may also attend when accompanied by a BALOO trained leader. Details and registration can be found

here

.




SCOUTING FOR FOOD SIGN-UP

We need you to be a good Scout and do your part to help our neighbors in need!  Did you know for most of our partner food banks, Scouting for Food is the biggest food drive they have all year!

If you are a unit leader - make sure your unit is signed up to participate and communicate the need for all of your families to be involved. To sign up, click the link below. This will ensure you receive communications regarding the drive.

If you are a parent of a Scout - encourage your unit to sign up to be involved.

Invite entire families and your Chartered Organizations to participate...more people we have putting out bags and collecting food should help ensure our biggest drive yet. Bags are distributed April 10 and collected April 17.

When the drive is over, remember to have your unit will report back using

this link

.

Make sure to take pictures and share them on your social media and tag the Bay-Lakes Council in them!

#ScoutingForFood

The Rokilio Experience


Spring Events at Camp


Trivia Night Fundraiser

Dadventure & Mom and Scout Summer Camp News

Messages from the Key 3

Recognizing our Eagles

New Service Project Checklist

Scouting Around

The Symbols of Scouting

Leadership Training
100th Anniversary Update

Kon Wapos Lodge Updates

CENTER FOR SCOUTING


CLOSED GOOD FRIDAY

  The Center for Scouting will be closed on Friday, April 2, to observe of Good Friday.
  The Appleton Scout Shop will be open during normal Friday business hours from 10:00 AM - 6:00 PM. Call (920) 831-9504 and arrange for curbside pick-up.
  Stop at the Scout Shop in April and check out this new t-shirt!

Cub Scouts and any youth interested in Scouting should come experience the outdoor adventure of Camp Rokilio on April 24.

The Rokilio Experience is an introduction to what summer camp is all about. Parents and kids will experience their first adventure at Camp Rokilio, together, in a one-day event. Filled with exciting activities such as archery and BB gun ranges, capture the flag, outdoor games and more, this event guarantees a great time.

Other games and activities may include open field games such as poison ball and disc golf, 9 square in the air, ga-ga ball, nature activity, and many other games and activities!
Click
here

f
or additional information and registration.
SCOUTING @ HOME:

COMMUNICATIONS MERIT BADGE
Four online opportunities for Scouts BSA members to earn their Communications merit badge are available. Registration is being taken on a  first-come first-served basis and each class has a limit of 15 attendees. Thank you to Scoutmaster, Mark Fessenden, of Troop 1902, for leading these classes.

Register

online today!
CELEBRATION OF OVER 100 YEARS OF SCOUTING: UPCOMING EVENTS
April 24:

Cub Scout Rokilio Experience, Camp Rokilio

April 23-25:

Council Camporee, Camp Rokilio

April 23-25:

Order of the Arrow Spring Fellowship, Camp Rokilio

May 7-9:

Council Camporee,

Gardner Dam Scout Camp

May 14-16:

Council Camporee,

Camp Hiawatha

Check the

council calendar

for more information and registration for these events.



Look for the 'Celebrating Over 100 Years of Scouting' selfie station at upcoming events. Take a photo of yourself and friends and share them on social media! Use the tag #100yearsofScouting



Stay tuned for upcoming events throughout 2021 and 2022, as we celebrate over 100 years of Scouting in Bay-Lakes.
SPRING EVENTS AT BAY-LAKES COUNCIL CAMPS
Scouts BSA
 & 
Venturing Crews
SCOUTING AROUND: WHEN YOU THINK OF SCOUTING, DO YOU THINK "CAMPING"?
The
fifth
in a series designed to help Scout families, Scouts and those new to Scouting better understand what Scouting is, how it works, and how to get the most out of the experience. For past articles, see back issues of The Guide.
Written by Paul Shrode, Bay-Lakes Council Family Friends of Scouting Chair, Member of the Board of Directors and Gathering Waters District Chair.
Contact Paul at
shrode@fvtc.edu
.
Camping! Perhaps the single most significant feature that distinguishes Scouting from other youth serving organizations. As the weather warms, thoughts turn to pitching tents or sleeping under the stars, building fires, hiking through the woods and fields, and soaking in the sights and sounds of nature. The outdoor setting provides a natural classroom for skill building, leadership development, and of course FUN!
<Continue reading>
MESSAGE FROM THE COUNCIL PRESIDENT:




ROD GOLDHAHN

MESSAGE FROM THE COUNCIL COMMISSIONER:


ROY LAPEAN
  Spring is in the air and Scouts, Leaders, and Volunteers are back in camps!

Earlier this month we hosted a Maple Syrup open house at Camp Bear Paw where we dedicated the new STEM center and recognized the many volunteers who have dedicated tireless hours to rebuilding that camp after the windst

orms.

Attendees were able to see the scope and quality of the improvements that were made.


  Last weekend was the first of two Maple Syrup Day events to expose visitors to the process and technology behind the product.

Upon returning home after the first event, a longtime leader remarked that it was the best run Council event he had ever attended!

It was great to hear that confirmation of our efforts to improve our program delivery as well as the physical components of our camps.
  While Scouting is more than camps and camping...

<Continue reading>

PROPERTY UPDATE BY RALPH VOELKER

Scout Executive, Ralph Voelker, has provided an update of Bay-Lakes Council camp properties. Click on the video below to watch, or

click here

to read the message he shared this week with our Scouting members.

  Yep. Spring is definitely here.

 

Another beautiful day walking around at Bear Paw for Maple Syrup Days.

Not only did I get to enjoy the nice weather, but I saw friends I hadn't seen in over a year and definitely ate more maple-flavored goodies than I needed to.

 

Another perfect day for Scouting.

  When I was a Scout, I always enjoyed going to camp.

I was able to hang out with friends and do things that, because I lived in town, I couldn't do at home.

While there were great leaders there to keep an eye on me, I always felt a sense of independence and responsibility.




<Read on>




COMMISSIONER CLYDE SEZ:


SIGN UP FOR SUMMER CAMP!
SUMMER CAMP UPDATES & INFORMATION
Camp Hiawatha has a new waterfront building, made possible by a generous donation by the Cole family. The waterfront activity center will provide a central location for the waterfront equipment including canoes, sailboats and lifejackets. This enhances the use of the waterfront area and improves the function of all waterfront activities. Formal dedication of the facility will be held this spring. (Information provided
by
Erick Kestila, Camp Director, and Craig Berndt, Vice President of Properties.)


Be sure to watch the next round of Summer Camp Webinars on March 31. Cub Scouts will start at 6:00 PM central, with Scouts BSA at 7:00 on Facebook live. Another set of meetings will be April 28 (same times). All sessions are recorded and posted to the

Council Facebook page

.


Remember that all Early Bi
rd
pricing ends on
April 15
! Your summer camp adventures

start here

!
TRIVIA NIGHT: DATE CHANGE!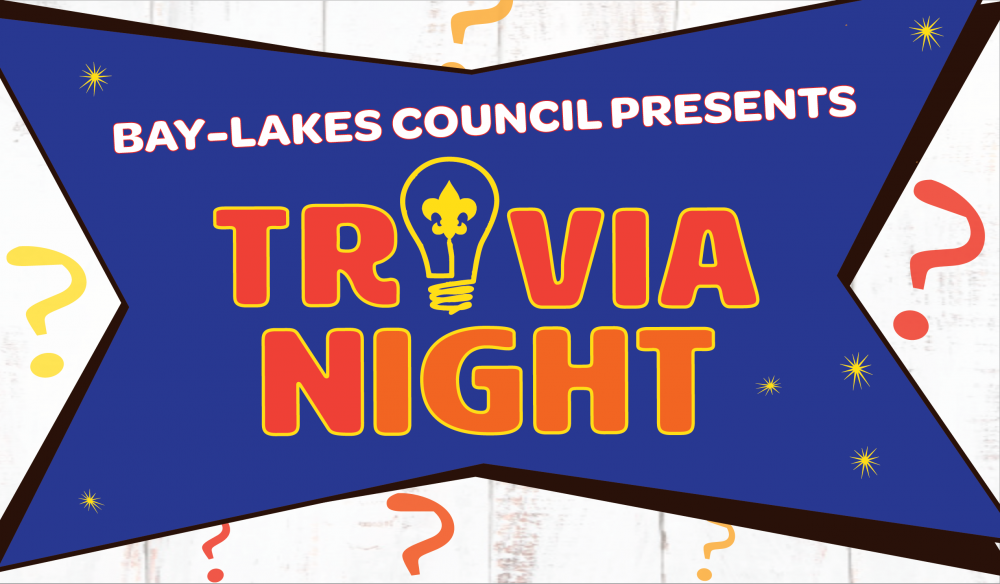 Missing the chance to show off your trivia knowledge with a team of five friends? The
next (
always fun and exciting) Trivia Night Fundraiser is scheduled for Thursday, April 29. (Note the date change previously scheduled for Friday, May 7.)



The competition will be steep, as we will have questions on everything from history, sports, geography, movies, maybe a Scout question or two, and so much more! Gather your team of five or feel free to register individually and join others in a new trivia circle

.

Registration

is open, so invite your friends and join us for the evening!
DON'T MISS THESE FUN WEEKEND FAMILY EVENTS WITH YOUR SCOUTS
Calling all dads and Scouts! You will want to be at Bear Paw Scout Camp on August 20-22 for Dadventure! This activity-filled weekend camping program is designed for Dad and his registered Scouts ages 5-14.

Bring your own tents and personal gear and we'll provide meals and activities! Register

here

.

Moms! Don't miss out on a fun-filled weekend of camping with your Scouts on

September 24-26, 2021. Over

20 program stations, a number of special campfire programs and activities such as BB guns, archery ranges, climbing walls, crafts, Scout skills, cooking demonstrations, and more will be available to you!

Sign up now

to attend this event and

create long-lasting memories with your Scouts.
THE SYMBOLS OF SCOUTING: THE SCOUT HANDSHAKE
Another in
an intermittent series of short paragraphs on basic Scouting and its symbols.
The Scout salute and handshake are ancient signs of bravery and respect.

The normal right-hand handshake comes from the time when men carried weapons for their own protection.

When they met one another there was an uneasy moment as each watched the other's right hand.

If it went for their sword or gun, there would be a fight,

but if the hand was outstretched and empty it showed peaceful intent.
Baden-Powell adopted the left-hand shake from the Ashanti warriors of Africa, whom he had encountered on a campaign years before he founded the Scouting movement.
He offered his right hand, but the Ashanti chief instead offered his left hand and said, "In our land only the bravest of the brave shake hands with the left hand, because to do so we must drop our shield and our protection."
Of course the left hand is also nearest to the heart, the hand of friendship.
(Adapted from BoyScoutTrail, Scouting for Boys, and the Scout Handbook.)
Many thanks to Roger Shellman from the Voyageur District for this effort.
If you have any questions, please contact him at
rogershell@netnet.net

.
RECOGNIZING OUR EAGLE SCOUTS
Conner Schoon

,

of Troop 629

in Winneconne

, WI,  

completed his Board of Review on February 16. His project is named

the Wolf Den Outdoor Classroom.

As he shares, "

It is an outdoor classroom area at Norbert Rich Winneconne School Forest, that consists of a learning platform and nine natural looking benches in front of it. His Eagle Scout Project was built for the Winneconne School District and community to use.



A spring court of honor is planned. His Scoutmaster is

Mr. Peterson.
Nyles Schneider

, of Troop 77 out of Greenville

, WI, completed his Board of Review on February 2. His project was to build

tire pyramids for the Neenah animal shelter

. Watch a video of a dog chasing around one of the tire pyramids

here

.



A summer court of honor ceremony is planned. His Scoutmaster is Brian Rose.
NEW SERVICE PROJECT CHECKLIST
CUB SCOUT LEADERS: Did you know that there is a weekly 30-minute live program call "Cub Scout Live!"? It provides key information and updates, and leadership strategies about the Cub Scout program.

All of the videos are stored

here

.



UPCOMING ADULT LEADER TRAINING EVENTS:
KON WAPOS SPRING FELLOWSHIP AT CAMP ROKILIO: APRIL 21-23

The lodge will be holding their Spring Fellowship event at Camp Rokilio in conjunction with the council spring camporee and Cub Scout Rokilio experience.

2021 ORDER OF THE ARROW ELECTIONS

Unit leaders can request an OA election for youth members through March 31.

Elections for 2021 are conducted using a virtual process.

OA CALL-OUT CEREMONIES


Call-out ceremonies will be conducted at council camporees in April and May, and during summer camp at Camp Hiawatha and Bear Paw to recognize the newly elected members.

ORDEAL INDUCTION WEEKENDS


The lodge is planning to conduct in-person Ordeal induction and cheerful service weekends in June, August and October.

These events are for Ordeal candidates and all OA members.



KON WAPOS LODGE CALENDAR


Visit the

lodge calendar

for detailed information on each event.



April 23-25:

Spring Fellowship

June 4-6:

Spring Conferences

June 11-13:

Spring Conferences

Aug. 20-22:

Lodge Gathering

Oct. 8-10:

Fall Conferences

Dec. 3-5:

Lodge Leadership Development
FINAL THOUGHTS...ENOUGH SEASONING?
  With our son's Japan doctoral studies interrupted, I've relearned the need for an inventory of certain "staples" to always be on hand and packaged appropriately in the freezer. One of them is taco meat. (Yes, the other is "sloppy joes.") Unfortunately, the last batch contained about 2/3 of the recommended seasoning when I prepped it. I figured I could get taco powder during the next store run. Not surprisingly, both my wife and son said they do not need any extra seasoning. Perhaps that adage about how flavorful leftovers are. And, the jar of seasoning remains in the cupboard.


  Chat with any of our scouting community and there is some parallel. We often talk about those Scouts, even leaders, who sometimes seem less "flavored" by the activities of the moment, only to watch them grow into "seasoned" scouts and scouters. I realize that, for a few, this may sound odd, even corny; but, think about our other life experiences. Employers value people who "grow into their jobs," and coworkers depend on them as mentors.

Even our gaming improves with practice and learning, and repetition.


  Scouting is no exception. Our units, and our supporting parents, begin the foundations that enable our youth and our leaders to become more seasoned. From weekly meetings to monthly outings, we have opportunities to grow -- as Scouts, as friends and family, as community members, as citizens. And there no place better than at Scout camp.

  Again, this Guide features the spring program activities and the leader training opportunities, with all the details beginning here: You can find more events

right here

.




  But, there is one other place where you will find a "one-page" listing with "live" links to specific events. Look in the upper right corner of every Guide for the 2021 program calendar. Including summer resident camp, there are 35 Council events scheduled between March and September. And, at least 13 training opportunities for adults. Bay-Lakes Council is moving forward, to be sure. For example, remember these words "Family Quest" and watch for details.


  One thing Scouting does not run low on, and that is seasoning. We're here and the flavors are delicious and exciting.

Join us!



Till we "meet" again: Scout on! And, be safe and stay healthy!



In the Spirit of Adventure,
Looking for past editions? Check out the
Communications
feed on the Bay-Lakes Council website. Thank you for supporting Bay-Lakes Council Scouting at its finest.
No longer want to receive the GUIDE?  
Unsubscribe
.
2555 NORTHERN ROAD,   
APPLETON, WI  54914