Message from the Council Commissioner

Youth Protection Update: Training Scheduled

Girl Troop Get-together: Register by Saturday

Scouting Around: The Order of the Arrow

Be the Change: Celebrating our Eagles

Back to Scouting: COVID-style

Summer Camp News: Mission Possible!

A Gardner Dam Update

Silver Beaver Nominations Sought  

Scout Sunday, Scout Sabbath, and Scout Jumuah

Arctic Adventures: There is Snow at Gardner Dam

Scout Trivia Night: Recruitment Incentive Announced

Scout for Food Dates are Set

National Youth Leader Training

Unit News: Pack 3650

Kon Wapos Lodge Updates

Quick Takes  

Looking Ahead

Final Thoughts: You Might Not Know Him...
FROM THE COUNCIL COMMISSIONER
Return to Scouting



Several times over the past week, I have had someone ask "When are we going to be able to return to Scouting as normal?"

That's a great question.

Personally, I believe this will be soon.

From a Council Commissioner's standpoint, there are a number of indicators that lead me to feel that way.

Let me share with you a few of the things that I see.
Programming is starting to ramp up again, although under guarded COVID guidelines.

 

There is a whole list

<Click to read more>

...
YOUTH PROTECTION TRAINING: ANOTHER ONLINE TRAINING SCHEDULED
The safety of Scouts and leaders is Bay-Lakes Council's primary concern.

Every two years, all registered BSA adult leaders must renew their Youth Protection Training. A lapse can cause delays in charter renewals and temporary inability to participate in Scouting.

The

next online 90-minute YPT training session

is Thursday, February 11

at

7:00 PM Central.

No advance registration is required.

Use this Zoom link

to attend.
SCOUT TRIVIA NIGHT: EARN AN INCENTIVE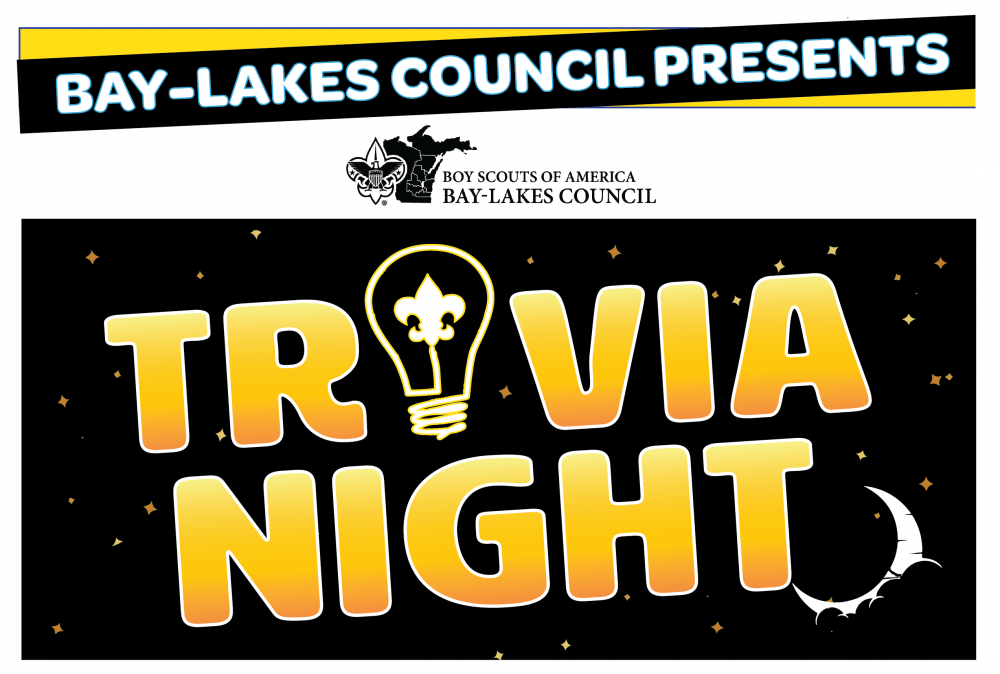 Did you hear about the incentive you will earn if your team recruits

another

team for the Scout Trivia Night contest on Friday, February 19? If your team successfully recruits an additional team, you have the choice between "making one wrong answer right" OR "half-off registration costs" for the Trivia contest scheduled this coming May.

Join us
on February 19 from 7:00-9:00 PM Central. Participation is $50 for a team of five. Individuals can register for $10 and will be assigned to a team. A $100 gift card to the winning team's choice of establishment will be offered. For rules, information and registration, click

here

.
All proceeds benefit the youth served by Bay-Lakes Council.
The Order of the Arrow
-- A
Best Kept Secret!

The second in a series designed to help Scout families, Scouts and those new to Scouting better understand what Scouting is, how it works, and how to get the most out of the experience. For past articles, see

back issues of The Guide

.
Written by Paul Shrode, Bay-Lakes Council Family Friends of Scouting Chair, Member of the Board of Directors, and Gathering Waters District Chair. Contact Paul at
shrode@fvtc.edu
.
Whether you are involved in Cub Scouting or have moved on to Scouts BSA, Venturing or Sea Scouts you will undoubtedly hear of the Order of the Arrow. For more than a century, the Order has recognized Scouts and Scouters who best exemplify the Scout Oath and law, and encourage others to live the ideals of Scouting. Members known as Arrowmen honor the traditions and spirit of Scouting through promoting camping, providing service to others, and fostering leadership development.
<Continue Reading>
Celebrating Inaugural Class of Female Eagle Scouts
Join us on February 21, along with the National Scouting community, to recognize and honor the inaugural class of Female Eagle Scouts, including our very own

Bay-Lakes Council Eagles

!



Th

ese young ladies

completed their Eagle Board of Review at some point during October 1, 2020, and February 8, 2021.

They are

recognized as the inaugural class of female Eagle Scouts with their Eagle Scout credentials dated February 8, 2021 — the 111th birthday of the Boy Scouts of America.

It will be a time to celebration their service, leadership and ground breaking accomplishments. The program begins at 7:00 PM, Central. Reservations can be made on

FACEBOOK

.
Jonas Wirtanen

, of Troop 1563 in the Voyag

eu

r District, completed his Board of Review on January 12, 2010. His project:

"I created interactive kiosks for the children's depot at the National Railroad Museum that will help them learn about what items go in certain train cars."

His

S

coutmaster is Danielle Green and

h

e anticipates his Court of Honor being held this spring.
Ricky Lamb

, of Troop 865 in Kettle Country District, completed his Board of Review on December 22, 2020. His Eagle project was to build two sensory paths and two life-sized play nests for the Mequon Nature Preserve. In his words:

"I built 2 large bird nests that stand about 3 feet high and are about 6 feet wide. They were made of branches from cut down invasive trees on the outside and a treated lumber frame on the inside. In addition, I built 2 sensory areas consisting of one 4' by 10' frame and one 4' by 12' frame. Imagine giant ice cube trays buried in the ground that are filled with different materials that are interesting to touch and feel. Both play areas are meant to be enjoyed by toddlers and preschoolers. My project was part of a larger improvement to the play area at the Mequon Nature Preserve."

His Court of Honor will be held when health conditions permit. Ricky's Scoutmaster is David Martyn.
Kade Hag

e

n

, of Troop 121 in Pickford, MI, of Hiawathaland District, completed his Board of Review on December 10, 2020. His project description:

"The Pickford Scouts BSA Troop meets at the local Nazarene Church.

The church has never had an outside flagpole to display their U.S. flag.

My Eagle Scout project created a memorial area with a flagpole, along with benches for a place to sit.

The purpose of my project was to create an atmosphere where loved ones could reflect and remember friends and family currently serving, or having served, our country.

The flag pole at the church also reinforces the togetherness of God and Country."



A court of honor is expected this spring. His unit leaders are Scoutmaster, Eric Gallentine, and Assistant Scoutmaster, Larry Hagen.
Riley Mooney

, of Troop 77 in Greenville, of the Gathering Waters District, completed his Board of Review on November 18, 2020. His project:



"I built three life jacket kiosks for the

Kids Don't Float

program. These kiosks provide free life jackets for all ages -- from babies to adults! It's a simple program: you can borrow a life jacket whether you're boating, swimming, or fishing...and just return it when you're done. Drowning is in the top five causes of deaths in Wisconsin. If I can help prevent just one, it will be totally worth it!"



A Court of Honor will be held this spring. His Scoutmaster is Brian Rose.
BACK TO SCOUTING: COVID STYLE
Scouting Events in 2021

Check out

a comprehensive guide to all the weekend activities and training now scheduled within Bay-Lakes Council. All of these events can be found on the

Council website calendar

or click

here

to download a copy.

COVID-19 Updates

Developing Scouting activities in a global pandemic is no easy task. But keeping our Scouts active and outdoors with minimized risk has great rewards. The Council has updated its guide which outlines the necessary restrictions that should make planning events easier.

Bay-Lakes Council strives to promote safe scouting at all levels of activities. Find all your

COVID information here

i

ncluding links to state and county health departments for updates.

The guidance emphasizes reliance on state and local health department protocols, reminding us that the stricter guidelines are to be followed.

There is information on dining facilities and meals, sleeping facilities, program activities and cohorting, health screening, and cleaning and disinfecting.

There is also a protocol to follow if a camper or staff member becomes sick.

While you are planning your next activity, don't forget the resources available on the Council's

Scouting@Home web page

, with news and updates, fun, and activities for parents and Scouts of all ages.
Here's What's New for 2021

Camping is the heart of the Scouting program and through outdoor experiences, Scouts build character, learn important new skills, practice leadership, and build the character values of the Scout Oath and Law. Bay-Lakes Council operates four camp properties that each offer something unique for you and your unit.

QUICK HINTS:
Remember that Early Bi
rd
pricing ends on
April 15
! To apply for a 2021 Bay-Lakes Council Summer Camp Campership,
click here
.

The deadline to apply for campership is
March 15
.
<Continue reading about summer camp>
GARDNER DAM SCOUT CAMP PROJECT UPDATE
The new multi-purpose and dining hall at Gardner Dam Scout Camp is progressing on schedule.

The interior insulation, wall paneling, and painting are well underway.

The building was designed for year-round use for council and district events, as well as, serving as a dining hall for summer resident camp use.

Thanks to Gardner Dam's Camp Ranger, Tick Hayes, Bay-Lakes Council's Vice President of Properties, Craig Berndt, for this update.

 
SILVER BEAVER NOMINATIONS SOUGHT
The success of the Scouting programs depends on its volunteers. Think about long-tenured leaders, Order of the Arrow Chapter Advisors, Event/Activity Chairs, current/past District Committee Members, current/past District Commissioner team members, etc. We all know several who give more, do more, provide more. The prestigious Silver Beaver Award, created in 1931, is Bay-Lakes Council's opportunity to bestow its highest national recognition on those deserving volunteers.
Recipients of this award are registered adult leaders who have made an impact on the lives of youth through service to the council. The Silver Beaver award is an award given to those who implement the Scouting program and perform community service through hard work, self-sacrifice, dedication, and many years of service. Anyone may nominate any deserving registered Scouter and submit a nomination to the council. More information and the nomination form can be found

here

. The n
omination deadline is Monday, February 15
.
The
nomination form
, along with any supporting material, should be emailed to
Laura.Martin@Scouting.org

.
Please email
Kenny Bergschultz
or
Mike Alberts
should you have any questions, or contact us at the Center for Scouting at (920) 734-5705.
PROGRAM UPDATES & REMINDERS
2021 Scout Sunday, Scout Sabbath, and Scout Jumuah

Known as the birthday of Scouting, the Boy Scouts of America celebrates its anniversary on February 8. It has become the week when Scouting units can practice their "Duty to God' and the 12th point of the Scout Law – A Scout is Reverent.
Arctic Adventure

& OKPIK Winter Camping

February 13 -

Conditions are great this time of year to learn

about cold weather camping

at

Arctic Adventure. This winter adventure program is designed for Venturers and Scouts BSA units

.
Scouting for Food Dates

Set:

April 10 & 17

Be part of the largest 1-day Community Service Project in Bay-Lakes Council

!

Scouting for Food bag drop off is Saturday, Apr. 10 and food collection is Saturday, Apr. 17. New this year: we are asking each unit that is going to participate no matter if they are dropping off the bags, picking the food, or both to register by March 26. Units should register using this link:

https://scoutingevent.com/635-43882
National Youth Leader Training

National Youth Leadership Training (NYLT) is the premier youth leader training experience offered by the Boy Scouts of America.

The Council offers two opportunities based at Camp Hiawatha: the Traditional course within camp on June 20–26, and the Pack and Paddle course (in the context of a wilderness backpack and canoe trek) based at Camp Hiawatha on August 7-15. To learn more about NYLT and to register, visit the

registration site

online.
Just ahead of Christmas,

Pack 3650

of the Twin Lakes District

had an excellent opportunity to package Christmas food for the Wild Rose community. The Cub Scouts and families have found ways to continue serving the community while also being safe!
Let us know about your unit's activities.
Food drives are a great way to help local food pantries, even beyond th
e
holiday season
. Th
ere is
always a
need to share with others.

In these times, the need is even greater.
Submit your Scouting story

here

.
Center for Scouting Closed for Federal Holidays
| | |
| --- | --- |
| The Center for Scouting will be closed on Monday, February 15, in observance of President's Day. | |
KON WAPOS LODGE: ORDER OF THE ARROW UPDATES
2021 ELECTIONS UPDATE
Kon Wapos Lodge is conducting virtual elections for new OA youth members through March 31.

All elections will be done using a virtual process and no in-person elections will be held.

 

<

Click here to read more>




Dues for 2021
All OA members can remain members in good standing by paying their dues for 2021.

 

If you were a member of the OA years ago and wish to reconnect with the OA, you can pay your dues and become an active member of Kon Wapos Lodge.
Click

here

to pay your 2021 OA dues.
2021 Lodge Calendar
--

Click here for upcoming Lodge Event Dates
M
onitor Website for Updates
For complete information, visit the

Lodge website

. Contact

Mike Mailand

,
Lodge Advisor, if you have any questions.
Lodge Chief:

  

JACK SALZWEDEL  /  
Lodge Adviser:

  

Mike Mailand
Wilderness and Remote First Aid:
March 6-7

&

April 10-11
Virtual Klondike Derby Training:
All the webinars and

can be found right

here

.
Wood Badge Registration:
Register today

for the premier adult leadership training program.
Given the ever-changing health circumstances and the differences between the regions of the Bay-Lakes Council, events listed here may be cancelled, postponed or moved to a virtual opportunity if possible.

Verify with the event coordinator whether this activity has been postponed or moved to an online presence.
Final Thoughts…
You Might Not Know Him

Chance meetings occur all the time. When my kids were on swim team, those with whom I worked at meets often talked about how we might never have crossed paths, except for swimming.
Th
e same is true in Scouting. The more you let yourself get involved, the more people you meet who share your same values.
Last month, a friend passed away of injuries sustained in a motorcycle accident. He loved riding and much of the outdoors. We first met in 2006 when he participated in Wood Badge, and I was patrol guide for the Owls. A quiet fellow, but often spoke with wisdom, panache and common sense. Every patrol member has a day to be patrol leader, and he was not comfortable in that role. The good fortune is that the Owl Patrol bonded tightly and helped support each other with tasks outside their comfort zone. A Sheboygan-area carpenter by trade, he and another member oversaw the making of a portable Wood Badge promotion kit as the patrol project, its use across the Council stretching deep into last decade.
Despite the distance, we remained friends: occasionally chatting to catch up, never missing a beat in conversation. That is what happens when you have 25 years in Scouting. He was cofounder of Lakeshore Area Rocket Society. He and his wife Mary --a long lasting impact on so many.
They have two sons, both Eagle Scouts. I worked for Curtis III as visiting chaplain when he was Webelos Resident Camp director at Twin Lakes Camp. One summer, his younger brother Tyler was on shooting sports, and even helped Twin Lakes District run a fall camporee that involved the ranges. Both remain friends as well.
Curtis Jr. started his dream job in 2015 as an apprentice instructor for the carpenter apprenticeship trade in the Madison area. Four years later, with his sons, they started their own business Jackson Construction and Jackstone Landscaping.
You might not know him, but I did: Curtis E. Jackson, Jr. Thank you for living the values.
Till we "meet" again: Scout on! And, be safe and stay healthy!
In the Spirit of Adventure,
Warren Kraft
Bay-Lakes Council

Vice President-Program Development
Adventure beyond the Expected
warren.kraft@baylakesbsa.org
2555 NORTHERN ROAD,   
APPLETON, WI  54914